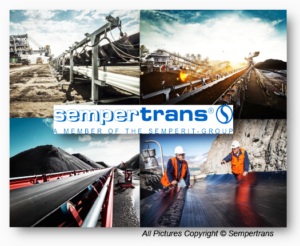 RM Wilson Co. is proud to announce it has recently added a premier company to their exclusive list of partners. On October 16, 2020 RM Wilson Co. agreed to terms with Sempertrans to become a distributor in the United States for their world-renowned underground coal mining conveyor belts.
Sempertrans Conveyor Belt Solutions GmbH, a member of the Semperit-Group, is headquartered in Vienna, Austria and has manufacturing facilities in Poland and India. With over 50 years of experience in the mining industry, Sempertrans is "one of the largest and most technologically advanced conveyor belt manufacturers in the world".
R.M. Wilson Co., itself with over 50 years of experience in the U.S. longwall coal mining industry and well-known for being product specialists, is a perfect match for an elite manufacturer like Sempertrans, and we are looking forward to adding them to our list of premier partners.
Welcome aboard, Sempertrans!
Sempertrans is an industry leader in the innovation and production of MSHA Part 14 conveyor belts for underground mining. These fire-resistant, anti-static belts are specially engineered for a longer belt life, preventing frequent belt changes and downtime, even in harsh conditions. Their MSHA Part 14 compounds for belt covers (Transflam®) have been developed specifically for underground coal mines, meeting all required specifications for the American market.
This Transflam® belt cover technology can be applied to the Sempertrans underground mining conveyor belts, including Multitrans® and Sempercord® conveyor belt systems. Multitrans® conveyor belts are produced using multi ply textile construction for general to highly demanding applications, whereas Sempercord® belts are produced with steel cord construction for heavy duty transport capacities.
To find out more information on the Sempertrans underground mining product line and the unique product services R.M. Wilson provides, visit our website at www.rmwilson.com or call toll free 800-624-5460.